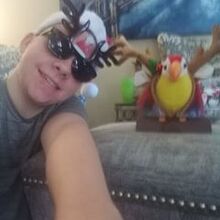 "I know"
Alex to Owen Nelson when video chatting with each other
Information
Alex Bartolo (Born September 15th, 2001 [Age 18] is an American SpringCaster who travels alot
Personal life
Alex was born on September 15th, 2001 in Houston, Texas.
YouTube
Alex originally started YouTube in 2014, but got terminated in 2017, then came back in 2018. In 2016, Alex joined SpringCast. In 2028, Alex's company 'Alex Bartolo Entertainment' will be built as part of SpringCast, with help from Owen. In 2030, Him and Owen will shoot a big movie from his company, 'The Raypang Gets Grounded Movie' as part of SpringCast, him and Owen, along with other people will be helping out with that too.